I've been thinking about how to make one of these for awhile and I finally got around to it last night. This lariat necklace is so feather light I forget I'm wearing it. It's knit out of nubby cotton, so there's lots of great texture. Right now I'm wearing it with an otherwise boring shirt. I think it would also look great with a tee, tank, or a light summer dress. This one was done in cream cotton, and I think I'll do some in spring green and taupe. Gentle, earthy colors.
In other news, I finished my crooked eyelet scarf. I need to block it a bit, but it's super snuggly and it matches my coats and hats.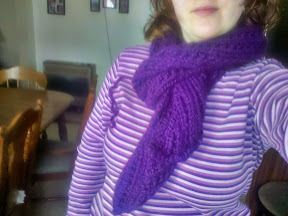 If you're interested in purchasing something, check out my Facebook page ------->
If you're looking for a pattern, they are available under the tabs at the top of the page. I'm working on setting up a virtual shopping cart, so eventually everything will be available right here.
There is SO much that goes into an online business, more than I anticipated, but it's a lot of fun and I'm enjoying the challenges involved with trying something new.
posted from Bloggeroid