Knitted metal seems like such a contradiction to me. Knits are "supposed" to be soft, like sweaters or socks, and metal is, well, hard. But what if I combined the two ideas? I've been testing this metal + knitting combination out this week, and the result looks a little something like this: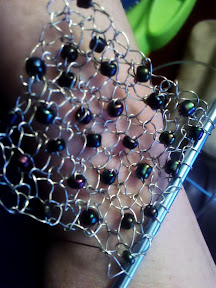 That's fine gauge silver wire, knitted on small needles that bangs up my hands. :( But the end result is worth it, don't you think? Those beads are way prettier in real life; they have an iridescent shine to them that reminds me of soap bubbles. Tiny, black, soap bubbles.
The resulting texture in quite interesting. It's hard because it's made out of metal, but it's flexible and light because it's knitted. This is going to be a cuff, or a wide bracelet, when it's finished. Currently I have an inch left to knit, then I have to figure out a closure for it. Lobster claw or magnetic? Which would you prefer?
In other knitterly news....
I'm test knitting a sweater for Stefanie Japel. THE Stefanie Japel. In case you don't know, she designs knitwear and she is one of my favorite designers. Her designs are flattering and intuitive, and most of them are also seamless. (I hate seaming. It's right up there with cleaning up puke on my "Ugh" list.)
Anyways... I, along with a bunch of other knitters, are knitting a test pattern for her. I don't know if I'm allowed to post pics or anything, so I won't. But I will say that it's a perfect spring sweater. Light, flowy, and flattering. Can't wait to go yarn shopping!
[p]\posted from Bloggeroid